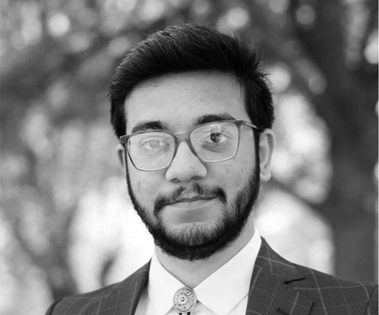 Mougheis Umar

Marketing Associate
Mougheis Umar brings experience creating marketing materials and marketing concepts for non-profit organizations and private educational institutions and, more recently, for U.S. Department of Health and Human Services (HHS) clients for Impact Marketing + Communications. Mougheis brings strong organizational and time management skills, as well as an aptitude for problem solving, and assists on client projects to optimize efficiency and outputs. He has also provided data analysis services and supported vendor re-negotiation projects. Mougheis provides research assistance, production management support, copywriting, promotional copy development, fact checking, scheduling, and more. Prior to joining Impact, Mougheis worked in several positions focused on diversity and inclusion, including serving as a Diversity Fellow and Multicultural Admissions Ambassador. He conceptualized, pitched, and was chosen to give a Ted Talk at his university focused on breaking down barriers for marginalized communities. He has also helped pitch and plan a museum exhibit and has worked as a Voter Registration Administrative Assistant to help disenfranchised voters register for the 2020 Elections.
St. Lawrence University, B.A. in Economics and Global Studies
Member of the American Economics Association
Branding is all about creating relationships. This means audiences need to know who you are, what you do, where to find you, how you're different, and why they should choose you.
It includes a system: mission statement, brand promise, identity (name, logo, tagline, typeface) visual system, values, presence, and personality. An effective brand should stand out in a crowded marketplace, build equity, and always deliver on its brand promise.
Impact supports every aspect of branding, from exploration, branding retreats, audits of brand assets, brand strategy and positioning, brand development, mood boarding, brand personas, branded collateral, training of brand ambassadors, and brand management. Impact also supports brand personality and brand experience exploration—two of the most frequently overlooked but critical aspects of branding that ensures who organizations say they are aligns with who and how audiences experience them to be.
LET'S BUILD SOMETHING GREAT TOGETHER.