Dissemination of Evidence-Informed Interventions
Client Category: Government
Service Category: Writing + Editing; Graphic + Web Design; Research Translation; Photo + Video; TA and Training; Branding; Marketing + Communications Strategy;
The Dissemination of Evidence-Informed Interventions initiative is a U.S. Department of Health and Human Services (HHS)-funded research project that seeks to test the ability to replicate four adapted linkage-to-care and retention interventions to improve health outcomes. The project is jointly run by Boston University School of Public Health and AIDS United, and Impact served as a subcontractor to both teams. The end goal of the initiative is to produce four evidence-informed care and treatment interventions (CATIs) that are replicable, cost-effective, capable of producing optimal health outcomes, and are easily adaptable to the changing healthcare environment. The multisite evaluation takes a rigorous Implementation Science approach. Our press release "National Research Project Brings Game-Changing Interventions to Scale" achieved the following metrics within just 11 days:
95,771 headline impressions
Picked up by 129 national outlets
Reached more than 119.5 million people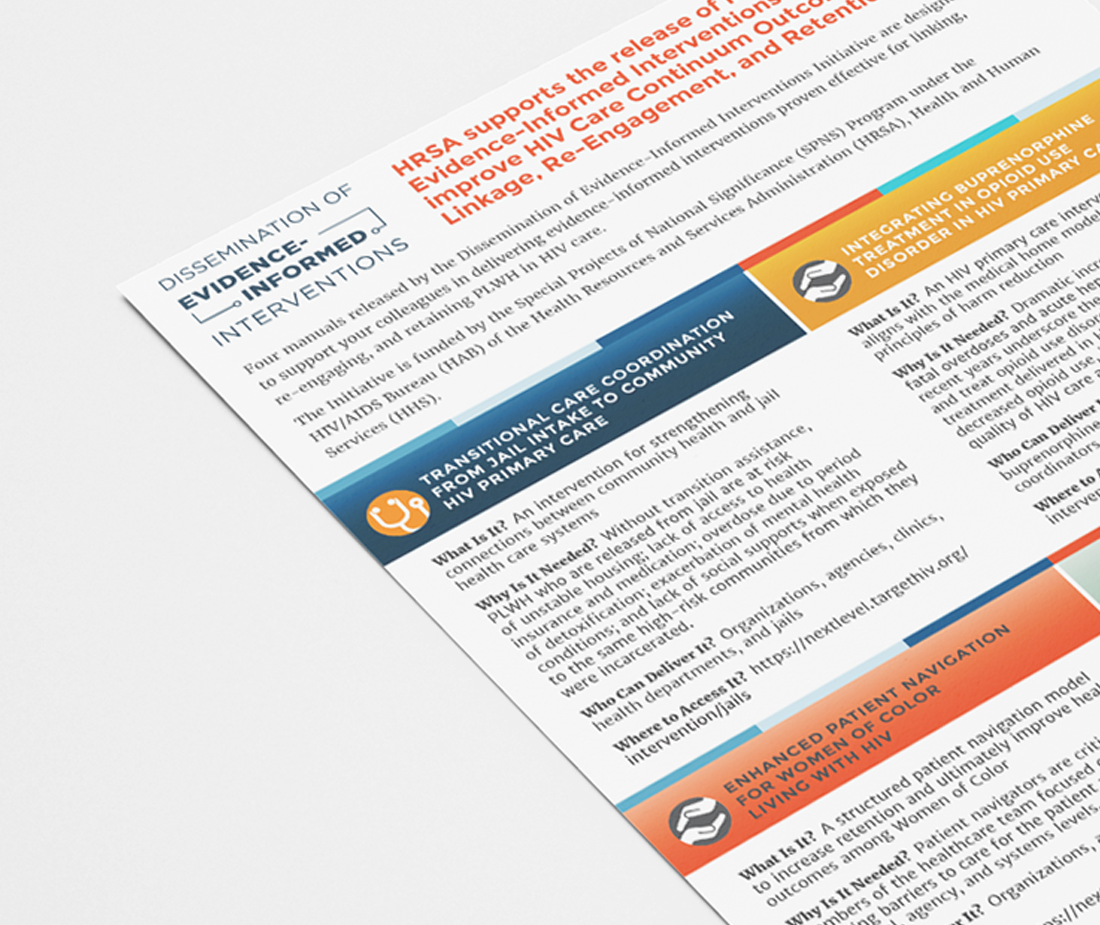 Marketing Assets
For this project, Impact developed the brand identity and logo for the intervention and created the first-ever microsite within the HRSA/HOB's TA library website. Impact also developed intervention spotlights and overviews, replication tips, TA training on materials development and dissemination best practices for initiative grant recipients, manuals, fact sheets, social media graphics, branded templates, curricula in English and Spanish, and a national dissemination strategy.
Training Material Design Details