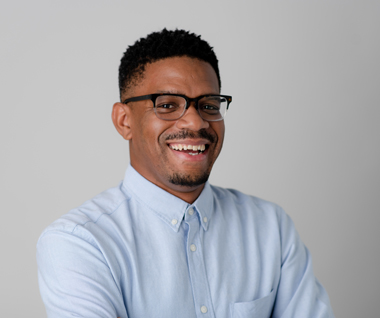 Terry Platter

Senior Graphic Designer
Terry Plater is a talented graphic designer with more than a decade of experience as a designer, illustrator, and production artist for a range of clients across corporate, nonprofit, and federal sectors. His diverse portfolio includes website design, branding and identity design and consultation, infographics, UI/UX design, social media graphics and ads, direct mail, digital ads, product package design, presentation design, newsletters, email, and brochures, annual reports, educational manuals, exhibition design, marketing collateral, and large format signage, among others. As a skilled artist himself, Terry brings and astute eye for aesthetics and visual design.
Terry has a B.F.A. from Morgan State University.
Branding is all about creating relationships. This means audiences need to know who you are, what you do, where to find you, how you're different, and why they should choose you.
It includes a system: mission statement, brand promise, identity (name, logo, tagline, typeface) visual system, values, presence, and personality. An effective brand should stand out in a crowded marketplace, build equity, and always deliver on its brand promise.
Impact supports every aspect of branding, from exploration, branding retreats, audits of brand assets, brand strategy and positioning, brand development, mood boarding, brand personas, branded collateral, training of brand ambassadors, and brand management. Impact also supports brand personality and brand experience exploration—two of the most frequently overlooked but critical aspects of branding that ensures who organizations say they are aligns with who and how audiences experience them to be.
LET'S BUILD SOMETHING GREAT TOGETHER.